CIMS: Calm Waters provides a FREE, 9-week Student Support Group for children from Pre-K to 12th grade. Caregivers can register their children for groups online using the QR code on the attached flyer. Thanks!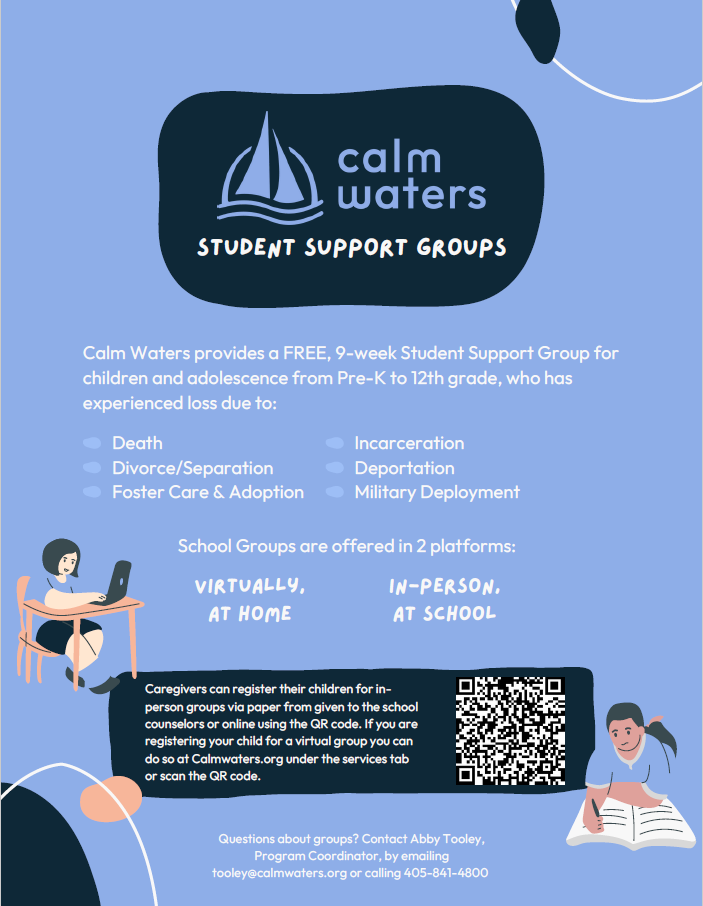 CIMS: Middle School Football will be playing a home game against Piedmont on Thursday, September 15th. 7th grade starts at 5:30 pm. Go Bears!
Tuttle Public Schools just sent an update for tonight's game. Parking and entry are only available on the north end of the stadium. Due to construction, only one entry to the visiting grandstand and that is on the north end. Please use caution. Go Bears!
Noble vs. Blanchard, HS Football at home tonight at 8:00 p.m. Purchase your tickets online at the link below to save time. The grounds are very wet, please park on hard surfaces only. Hope to see you tonight. Go Bears!
https://www.nobleps.com/o/noble-athletics/page/tickets
Week #3 Update is below. Covid continues to hit us hard. Please continue to practice great hygiene and stay home with fever or if symptomatic. Have a great weekend!
https://5il.co/1h052
To date, we have Free & Reduced Applications from 1100 families. With the deadline approaching, just a gentle reminder that if you haven't submitted the form, please do so. If a parent/guardian completes a free or reduced-price meal application in July or August 2022 and that meal application is approved for free or reduced-price meals, they will be eligible for Summer 2022 P-EBT benefits retroactively when pick-up files are sent to DHS in October. This will only apply to Summer 2022 benefits. We want to ensure that every family eligible is qualified for the program. Also, we will be drawing winning names for our giveaway on Monday, September 26th. Thank you.
http://nobleps.nlappscloud.com/
CIMS Families: Picture Day is Tuesday, August 30th. Order forms are available at the school.
Just a reminder: Students and parents are not to use any sort of food delivery services this year. NO GRUB HUB, DOORDASH, UBER EATS, ETC. Thank you for helping keep our schools safe!
Parents we are off to a great start! Just a quick reminder that when you check out your child, you must come into the school and provide a form of identification. This will help with our new safety protocols. Thank you so much for helping our schools and your child stay safe!
Bears helping Bears, please get out and vote today! Every vote counts!
Just a friendly reminder from our Nursing Staff: Nurses are only able to dispense medicines that parents have delivered to the nurse at your students site. Thank you. Have a great weekend!
A message from Noble Public Schools Transportation: We are not able to accomodate students riding a bus other than their regularly scheduled bus, such as riding home with friends, etc. Our routes are full. Thank you for your cooperation and understanding.
Families can register their grade 7-9 children for free online math tutoring | Oklahoma State Department of Education. Have a great day! sde.ok.gov/newsblog/2022-…
CIMS: Parent/Teacher Conferences will be held this fall on Tuesday, October 11th and Thursday, October 20th from 4:30-7:30 pm each night.