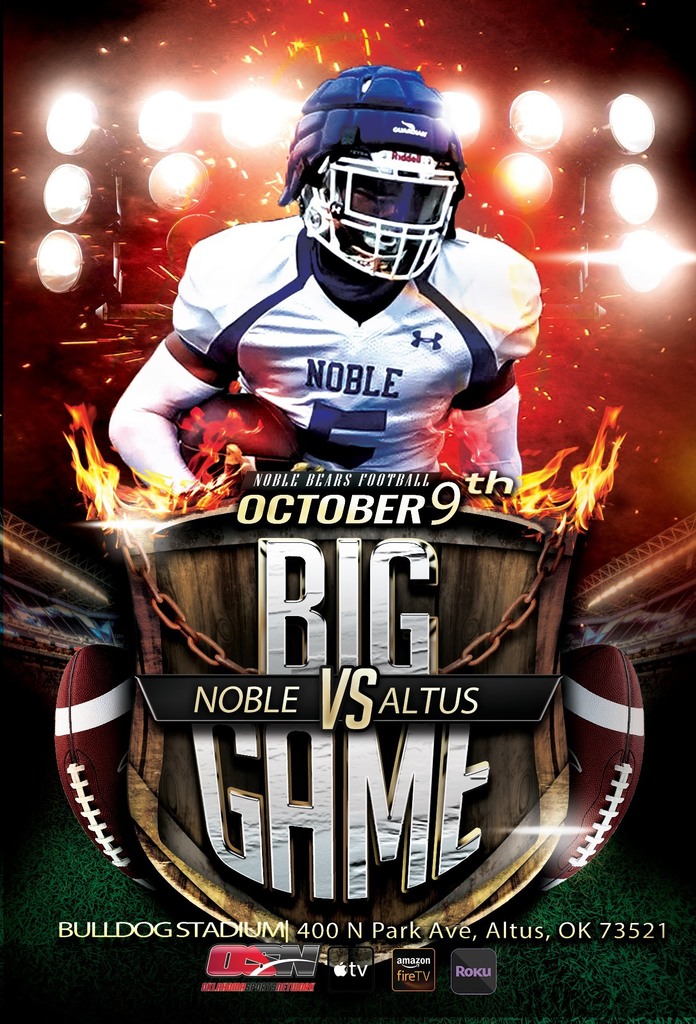 Thank you for your patience as Noble Schools and AT&T work to restore phone service. We apologize for any inconvenience.


2020 WOMEN'S BASKETBALL APPAREL is now open! There is also spiritwear available for your family and friends. - Shop Now:
https://www.bsnteamsports.com/shop/NOBLEWBB20
- Store Open From: 9. 23.20 - 10.7.20 STILL HAVE NOBLE BLACK MASK FOR SALE $10 AND NOBLE LANYARDS FOR $3
Please read updated message from Noble Public Schools for Week #5. Go Bears!
https://5il.co/lhr3
Officer Ford of Noble PS will be out in the community the next few days. We are performing welfare checks on students that were enrolled @ NPS last year, but we haven't heard from or seen this year. Call 872-3452 with any questions. Go Bears!

Homecoming Week is 9.28.20-10.2.20! #GoBears Mon, 9.28.2020- Space Jam (jersey/sports theme) Tue, 9.29.2020- Teen Beach (Hawaiian/biker theme) Wed, 9.30.2020- Twin Day (match with someone) Thu, 10.1.2020- Back to the Future (80's theme) Fri, 10.2.2020- Homecoming vs. Duncan

PICTURE RETAKE DAY Picture Retake Day for Traditional (in class) students is Fri, 11.6.2020 at the Admin Bldg. Picture Day for Virtual students is Fri, 11.6.2020 at the Admin Bldg. Contact the main office at 872.3472 for details.
The 2020 Census is ending on September 30th. Please take a few minutes and complete today. Education, Social Services, highways, healthcare, representatives and more, are determined by our participation. #GoBears #publicschoolsrock
https://2020census.gov/en.html

NPS/USDA/OKSDE Partnership is offering FREE BREAKFAST & LUNCH for on-site students from 9.8.20-12.31.20 regardless of economic status! The Meal Plan for virtual students & children under 18 is still pending at this time. Stay tuned for upcoming details!Call 872.5690 for details.
Good Afternoon, Please read the update from Noble Public Schools. Thank you for the opportunity to serve your children! Go Bears!
https://5il.co/ko8w
Please read the attached announcement for Fall Activities. Thank you. Go Bears!
https://5il.co/kgo0
Good Morning NPS! Our nurses and the Cleveland County Health Department, are asking for our help. If anyone in your household is sick, please keep everyone home. Even if others don't have active symptoms, they can develop at any time. Help us help you stay safe! Go Bears!