Please find attached an update from Noble Public Schools on the Pioneer Elementary Dance allegations. Thank you for your patience.
https://5il.co/1nzae
Noble Public Schools will be closed on Wednesday, January 25th due to the continuing winter weather. Rural roads and bridges are becoming slick and hazardous and are predicted to freeze overnight, making travel dangerous in the morning hours. Mid America Technology Center will also be closed on Wednesday. Enjoy a snow day, stay safe! Thank you.
Please find below the link for Noble Spring Soccer 2023 registration information. Have a great weekend!
https://5il.co/1nlxz
Please read the important attached message from Noble Public Schools. Thank you.
https://5il.co/1m9yz
Noble High School was notified late today of a threatening post on social media. Our school resource officer, Officer Kahlden, was notified to assess and advise us of the situation. We are working to identify everyone that may be associated with the threats. The threat is similar to those received in the past. We are using our technology and camera systems, to assist us in our search. Working with our law enforcement resources, the post has been determined to be non-credible. All students involved will be disciplined as the law allows, and charges will be filed with law enforcement as warranted. Noble Public Schools will always be proactive in the protection of our students and staff. We appreciate your support. Thank you. Frank Solomon Superintendent Noble Public Schools
This morning we were made aware that a student made an online post resembling a middle school teacher's Google Classroom. The student had manipulated the page to make it appear that the teacher posted something that was never posted. We have addressed the issue and wanted to assure you that the post is fictitious. Thank you for understanding and your support. Frank Solomon Superintendent Noble Public Schools
Bus #14 had mechanical issues this morning. We will be running 30-35 minutes late. Thank you for understanding. Sorry for the delay.
NPS Foundation is helping our Noble children in need of meal assistance. They are accepting donations through the end of 2022. They will be matching donations up to $5000.00. Thank you. Go Bears!
https://www.noblepsfoundation.org/feed-the-bears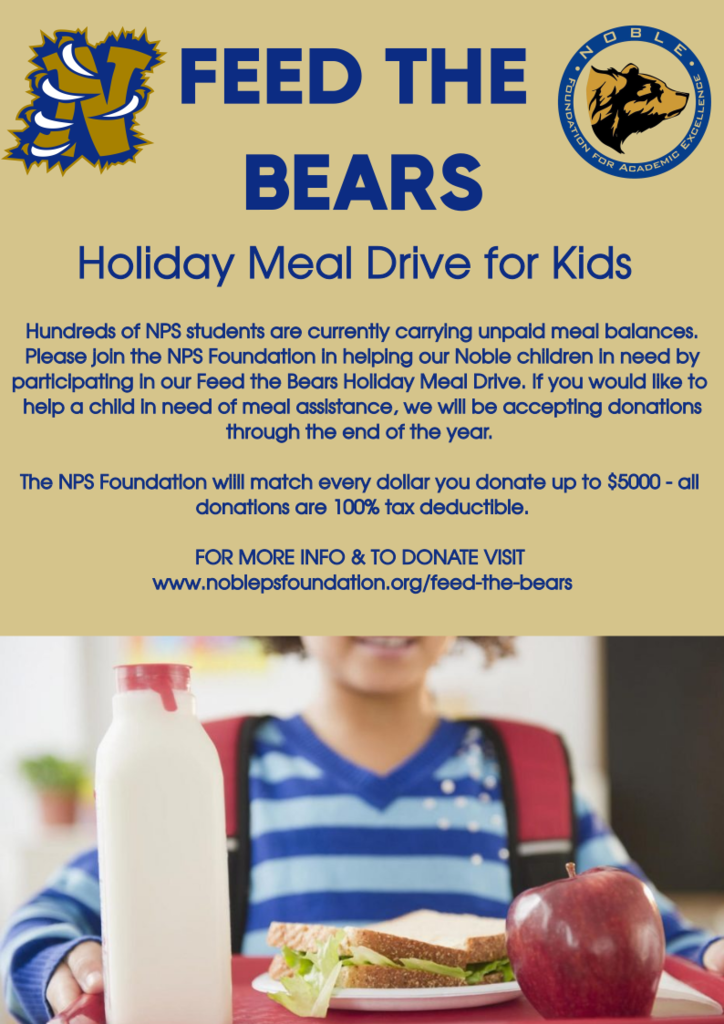 Please see the attached message for a 5K fundraiser for Noble Public Schools Cross Country and Track teams. Go Bears!
https://5il.co/1kqm3
State, local and county elections are on the ballot tomorrow, Tuesday, November 8. Thank you for using your voice at the ballot box. Elections influence the future of public education for our students. Thank you!
Please take a few minutes and read the attached letter concerning our busing situation. Thank you. Go Bears!
https://5il.co/1kaqd
Please share with anyone that you know in need. The Cleveland County Christmas Store flyer is attached below. Thank you.
https://5il.co/1k3c9
Due to the potential of severe weather for this weekend, Senior Night at Noble High School will be on Thursday, November 3rd at 7:00 p.m. Senior Night for Cross Country, Pom, Cheer, and Football begins at 6:25 p.m. At halftime , we will have Band Senior Night, our band performance, followed by our Cheer & Pom. Please purchase tickets in advance at the link below. Go Bears!
https://www.nobleps.com/o/noble-athletics/page/tickets
Tomorrow is district-wide picture retake day. If you are wanting retakes, please bring your packet or proofs to school with you tomorrow, and the photographers will take care of you. Thank you.
https://5il.co/1jel3