Counselor's Corner
Welcome to Care-A-Lot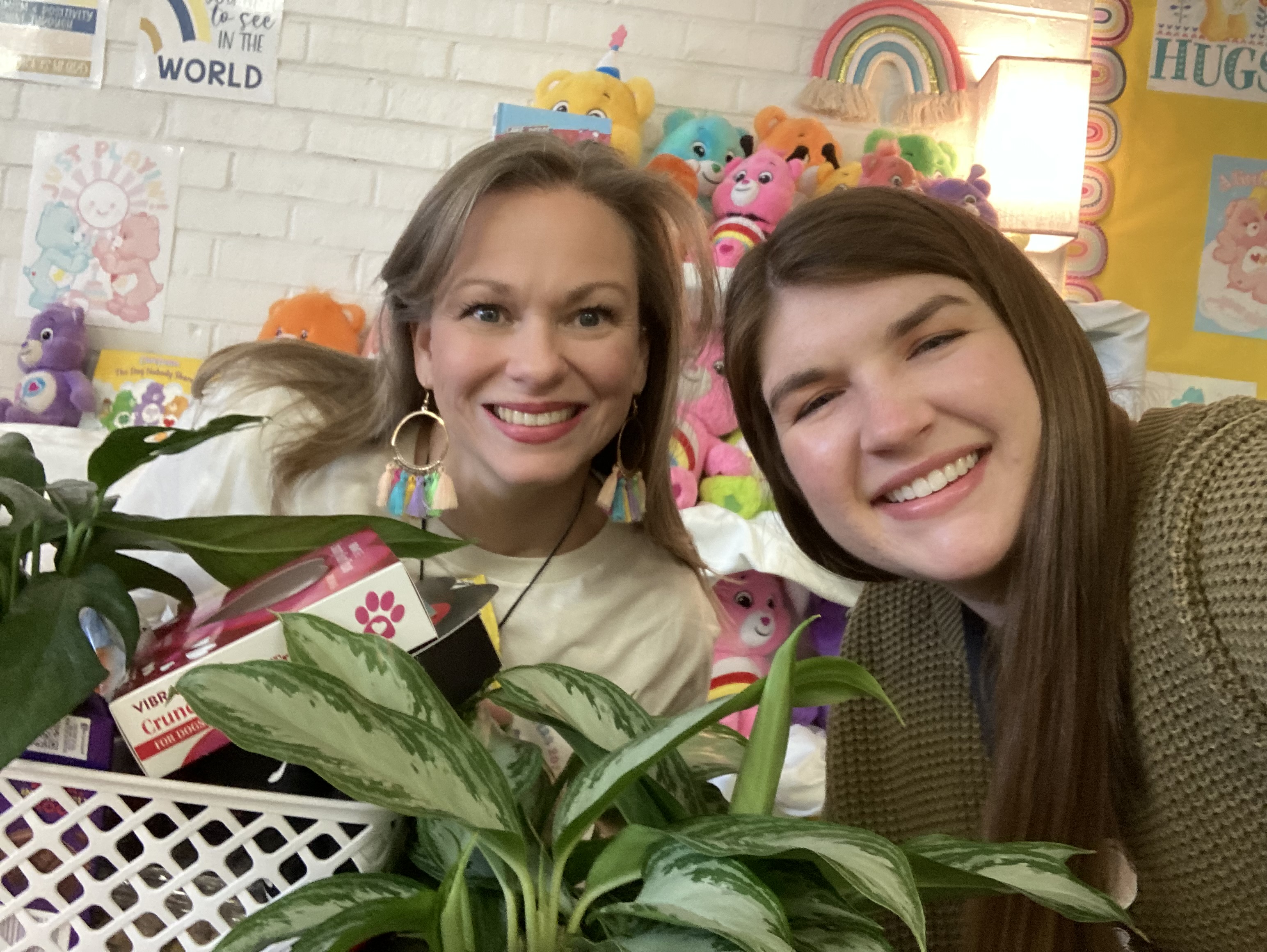 We are your KID Counseling Team! Mrs. Robberson, School Counselor & Ms. Malorie Mudhar, School Social Worker.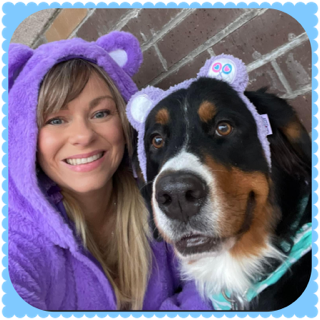 Sadie Jane
Animal Assisted Therapy Dog
Meet Sadie Jane! Sadie is a 4 year old Bernese Mountain Dog, who is certified through A New Leash on Life to be an animal assisted therapy dog. She is a part of Mrs. Robberson's counseling program in many ways. Sadie assists in classroom lessons, small group and individual counseling. She is a great tool for calming and comforting as well as motivating children to positive results and academic success.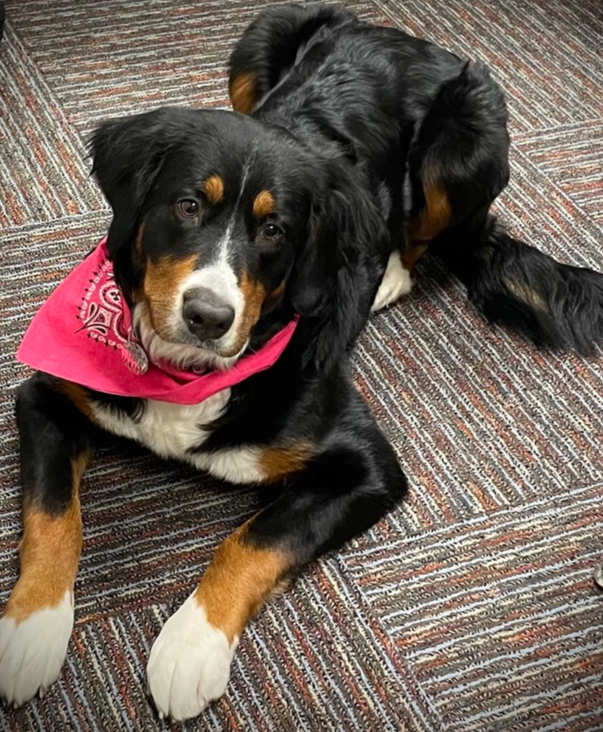 Meet the School Counselor
Mrs. Robberson has a Masters of Education in School Counseling, a Bachelors in Music Therapy, has reached LPCC status and is working part time in a private practice. With over 20 years of experience in the mental health field, she has spent the last 7 in elementary school counseling. She loves animals and music, and incorporates them both in her counseling services, along with many other alternative therapeutic approaches of which she holds many certifications. She believes that every child has the ability to succeed, and is proud to be a part of the Noble Bear family.
A word from Mrs. Robberson...
The Care Bears are the theme of my classroom, and the characters in a lot of my early childhood social emotional learning lessons. I cherished these friendly bears as a kid, as I know many of you did too, and still do. The Care Bears have ALL the feelings, and are constantly learning lessons on how to self regulate when the BIG feelings come. They make mistakes and learn from them, are always ready to help each other out, and constantly on the lookout for ways to show they care. As the Noble Bears, I know our values are the same! I'm so excited to share my Care Bears and their lessons with your children this year!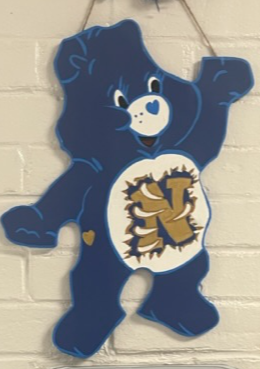 Nobody cares like a Noble Bear!
KID's Counseling Program Mission Statement
KID's counseling program is grounded in the belief that every student can learn and practice life skills that will encourage a love for learning, bring intentionality to inclusive behaviors and a respect for diversity, along with the desire to continue growing and achieving their personal and academic goals.
KID's Counseling Program Philosophy
The KID Counseling Program's philosophy is strongly based on integrity, which is the cornerstone of everything we do in Noble Public Schools. Positively affirming the unique identity of every individual is of high importance. Collaboration with internal and external stakeholders is key in maximizing shared knowledge and resources to bring greater value to our students, staff and stakeholders, while aspiring to maintain a positive attitude and expect the best possible outcome in every situation.
At KID, the Counseling Program enables all students, regardless of individual differences, to acquire the personal, social, and educational readiness competencies necessary to continue on to the next level of schooling, while building the foundation needed to become successful adults. This program is grounded in the belief that education is a collaboration among students, parents, school, and community. This program promotes the idea that learning requires active participation, mutual respect and individual accountability of all involved individuals. It is a priority to insure that all students will be supported by the comprehensive school counseling program, and their immediate needs are met through information, consultation, and referrals. I am committed to providing all students a right to a safe, inclusive learning environment, while abiding by professional school counseling ethics.
Meet the School Social Worker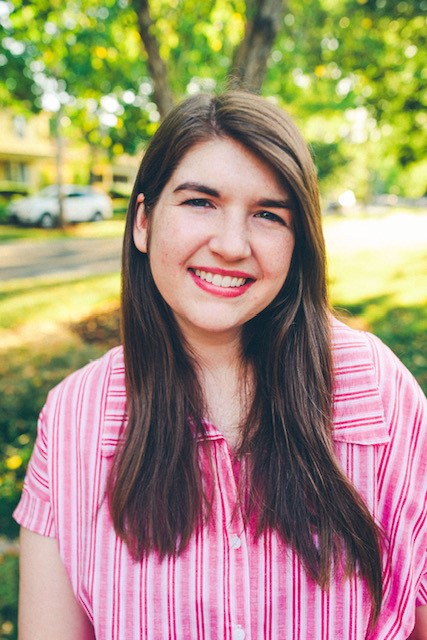 Mrs. Malorie Mudhar, School Social Worker
Hello! My name is Malorie Mudhar and I am our School Social Worker. I received my Bachelors degree in Child and Family Studies and my Masters in Social Work, making me an LMSW. I worked in the adoption field for about 5 years before switching gears and finding the greatest job in the world…School Social Worker! This is my 2nd full year at Noble. I get the privilege to serve on the counseling teams at both KID Elementary and Hubbard Elementary and love getting to follow your kiddos from Pre-K to 3rd grade. I see students individually or in small groups to work on anything from social skills to grief and loss support. Additionally, I work to support our families however I can, whether it is coordinating our Backpack Buddies weekend food distribution program or sending kids home with clothes and shoes from our clothes closet. I keep an updated list of community resources, so please feel free to reach out if I can be of any assistance to you or your family!
Welcome to the Sensory Room! We use this room for all kinds of things here at KID. This room is available for meeting individually with students, having small group sessions, or allowing kids to take a sensory break from the classroom. We have a variety of sensory tools available, such as sensory swings, lava pads, foam rocks, a trampoline, fidget toys, touch lights and more. Additionally, this is where our clothing and shoe closet is located. We are always happy to share our donations with our students!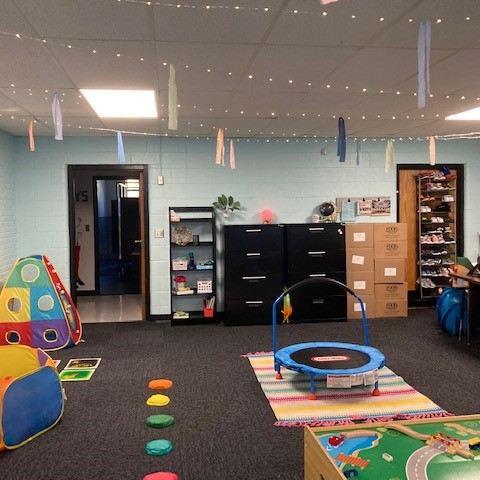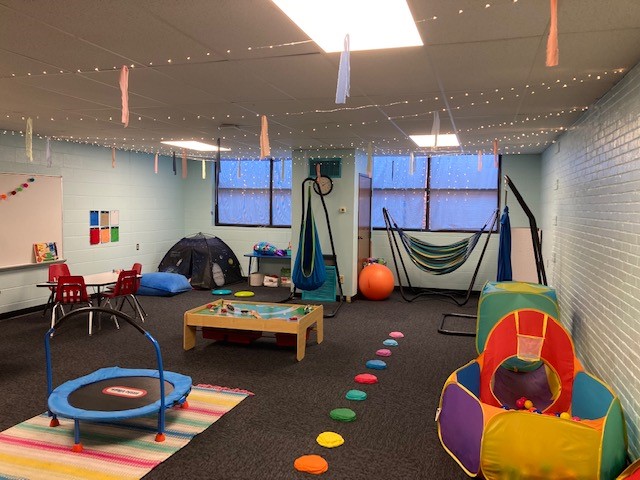 What's Happening in
Care-A-Lot
This Month?
Welcome!
Sadie and I are so excited to get to know you this school year!
In your first class of counseling, we will learn ALL ABOUT YOU! We will meet some Care Bears and practice introducing ourselves, making friends, and showing kindness! Be thinking about…
IF YOU HAD A BELLY BADGE, WHAT WOULD IT LOOK LIKE TO SHOW YOUR FRIENDSHIP SUPERPOWER?
Click on the links below to see exactly what your students will be doing in Counseling this month! Use this as conversation starters when you ask about what they have learned at school!
The link below will take you to my interactive class lesson plan. click on the Title, and each bullet point to view lessons.
The word of the month is
RESPECT
Lesson 1
In Counseling during the month of September, we are learning and practicing how to show respect here at school and at home. During class we will begin to expand on Mindful practices, and learn more about self-regulation skills, problem solving skills, and identifying emotions.
Your student will watch the animated read-a-long linked below, "The Crayon Box That Talked", and engage in class discussions about how to show respect to those who are different than you, and how our differences can teach us new things and when we come together, we can make something beautiful!
The students will work on creating a crayon that is their favorite color with a self-portrait in the center. Then we will place all the student's crayons together on a poster like the one above with their teacher's name on it and display them in the hallway. You'll be able to see their art work on your way to this month's assembly!
RESPECT
Lesson 2
Click on Mrs. Robberson's Virtual Classroom and go to page 3 for the second lesson in September...
We are learning self regulation skills and how we use the different parts of our brain!
Ways to Show Respect At School:
1) Listen to the teacher
2) Follow School Rules
3) Use Kind Words
4) Be helpful
5) Tell the Truth
6) Be considerate with other people's belongings
Ways to Show Respect At Home:
1) Listen to parents
2) Follow House Rules
3) Use good manners
4) Clean up after self
5) Help with chores
6) Take care of personal belongings
Past Highlights and Events: